Entrepreneur for 53 years, nine innovative gastronomy concepts developed and successfully managed in my younger years together with my wife Renate - before the Schindlerhof became our life's work 39 years ago and was expanded in six construction stages into a veritable "hotel village of the senses". Family-owned and proudly independent!
In the meantime, the business has long since been handed over to our daughter Nicole. At the time, the handover of the business was voted "Bavaria's best business succession" by McKinsey and the savings banks. We have often been ahead of the times, so that we were able to win the "European Excellence Award" and three times the "Ludwig Erhard Award" (the highest quality awards in Europe and Germany) more than 20 years ago. Demographic change has passed us by almost without a trace; we have yet to experience a really serious shortage of skilled workers - thanks to our strong employer brand, which we built up decades ago and still do.
Best employer in Germany at "Great Place to Work" 2018 in the category up to 250 employees and "Best employer in Europe" in our sector, the hospitality industry, are the proof.
Along the way, over 100,000 participants in keynotes at congresses and often multi-day seminars have shown our path to success - always with radical transparency! During this time I have seen many trainers come and go like shooting stars. Only a few have stayed! In 2022, two "colleagues" have once again taken us to a new dimension: Simon Sinek from the USA and Prof. Wolfgang Jenewein from the University of St. Gallen.
We have already put their valuable insights into practice and can show the results! Our Best-of-Seminar 2023 is only a one-day format. Our seminar participants have long since reached such a stage with their companies that we no longer need to talk about the basics, but can allow ourselves to serve only the essence - the consommé double, so to speak. Enjoy your meal:
Employer Branding

the path to a strong employer brand with enough unsolicited applications (in two years of Corona, we have only lost three team members to other industries). We work specifically with all extrinsic and intrinsic motivation possibilities. We don't want to create employee loyalty (after all, that associates shackles...), but employee CONNECTIONS!

Brand Management

towards our customers. Here we are concerned with high service quality, empathy and emotion, so that sales channels become capillary systems (latest award: "Top Service Germany" 2023). We have been working with a price guarantee since 1984 - every guest pays the same price with us. Discount is just another word for desperation for us

The big WHY

- why do you and your team members get up in the morning? What drives you? Do you know the big WHY, the purpose, the "purpose" of your company? This is where Simon Sinek put us on the track. We show our results and provide the guidance (with facilitation if desired) to implement them at home. Of course, as a basis, we also show the classic components of a mission statement in fast forward.

The annual target plan in the company

is more or less the "road book of a year's rally". We demonstrate how exciting it is to work together with the management personalities
to work out sales to profit and all qualitative targets with pinpoint accuracy, based on SWOT and portfolio analyses. Including joint commitments in a goosebump ritual.

"Killing the Dragon"

That is our internal wording in crises. We show how we survived 300 days of closure without too much damage, how we had to reinvent our company in some cases, and how we invested countercyclically in the middle of the crisis - and are still doing so to further enhance our appeal and attract new target groups. Survival of the fittest!

Innovations & Digitization

This part is taken over in the seminar by my daughter Nicole (she has been responsible for the core process of innovation for 21 years) and her husband, my son-in-law Dr. Marcel Setzer (entrepreneur with his own IT company, the think tank for the Schindlerhof).
Our HUMANSTARSapp enabled us to be in touch with all team members almost daily even during lockdowns and to keep the team spirit high. Even two annual target plans had to be presented online hybrid.
There were no opportunities to meet during the winters of 2020 and 2021.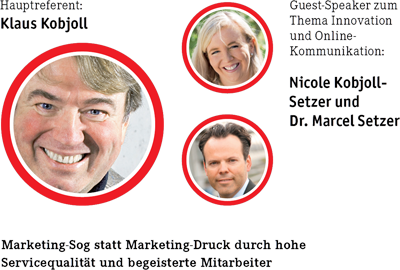 For our seminar participants we have reserved a room contingent at the Schindlerhof. We will gladly take care of the booking for you.
€ 950,- pro Person + MwSt.
Schindlerhof
Steinacher Straße 6-8
90427 Nürnberg
www.schindlerhof.de
All relevant information about this seminar, incl. handouts, seminar chat room etc. will be provided to you in time in the participant area of the HUMANSTARSapp for iOS and Android (customer key: kobjoll) as well as online (https://web.max-toolbox.com/customer/kobjoll).
Conditions of participation
In case of withdrawal from the contract 30 days or more before the start of the seminar, 10 % of the seminar fee is due. Cancellation less than 20 days before the start of the seminar is not possible. The full invoice amount is then due for payment. Of course you can name a substitute participant. The participation fee must be paid at least 6 weeks before the seminar begins.
Your investment of € 950 plus VAT includes detailed course documentation, lunch, dinner, coffee breaks and conference drinks.
The overnight stay will be settled directly with the hotel by the participants.
(The "Return on Invest" is demonstrably very fast).