Marketing suction instead of marketing pressure through high service quality and enthusiastic employees! Enthusiastic employees are a prerequisite for high service quality. Regardless of whether someone is a producer or service provider in today's world: competition in all industries is determined by service!
The word "sale" does not exist in the Schindlerhof. We merely issue invitations to buy.
People want to be seduced in a charming way; preferably by people who are enthusiastic about their cause and really burn for it!
You can no longer earn money with service alone. A new dimension must be reached here!
In the future it will be about more than just service.
Service is worn out. There is no company that would not claim good service for itself.
At Schindlerhof we train our employees and continue to train them in the art of inspiring customers!
Use the seminars as an energy filling station and innovation pipeline for your company!
Suitable for all thoroughbred entrepreneurs - whether employed or self-employed!
Organisation

Standards, Processes, ISO

Strategic Planning

Long, medium and short-term planning
Developing a mission statement and bringing it to life

leadership

Management responsibilities and principles

Employee orientation

Attitude filter, building up employer brand, employee survey

and are built on a solid foundation of TQM (Total Quality Management).

Success comes when you follow yourself.
15 awards including the European Quality Award confirm what can be achieved with planning, a clear vision and in a team.

Commodity Cordiality to the inside

Tools for the optimization of service quality
Setting /Valuation /Management
Rituals of appreciation - the "diamond" at the Schindlerhof, with which many prizes and awards have already been won!

Commodity Cordiality to the outside

Experiences that touch the customer emotionally
How do customer friendships develop?
Differentiation in competition via soft skills!
The art of inspiring customers

And besides:
Nicole Kobjoll-Setzer and Dr. Marcel Setzer will focus on 2 main points in their presentation on the topic of innovation:

Core process innovation at Schindlerhof - it helps us "hear the grass grow" and forces us to always remain innovative despite the stressful everyday life in the company.
Mobile & Online Communication 3.0 - the contemporary use of new media with everything that comes with our MAX-Toolbox: from the company and employee app to the classic online presence, from social media use to optimization at Google. In other words, a consommé double of the possibilities to communicate online and mobile.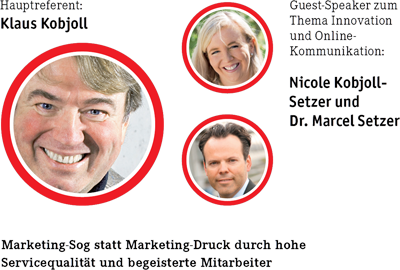 We have reserved a room contingent at the Schindlerhof for our seminar participants. We would be happy to make the booking for you.
€ 1.450,- pro Person + TAX
Repeater-Price
€ 950,- pro Person + TAX
Schindlerhof
Steinacher Straße 6-8
90427 Nürnberg
www.schindlerhof.de
All relevant information on this seminar, including handouts, seminar chatroom etc. will be made available to you in good time in the participant area of the Kobjoll app (IOS and Android) as well as online (https://www.valido-max.com and customer key: Kobjoll).
Conditions of participation
In the event of withdrawal from the contract 30 days or more before the start of the seminar, 10% of the seminar fee is due. Cancellation less than 20 days before the start of the seminar is not possible. The full invoice amount is then due for payment. Of course you can name us a substitute participant. The participation fee must be paid at least 6 weeks before the seminar begins.
Your investment of € 1.450,- plus statutory VAT includes a detailed course documentation, lunch, dinner, coffee breaks and conference drinks.
Participants will be charged directly to the hotel for the overnight stay.
(The "Return on Invest" is demonstrably very fast).